Be warned! You might not want to look behind this curtain. The photo you see here is telling you a straight faced lie. It's so peaceful, so desolate… It's the very epitome of quiet solitude. Right? Well, not so much.
I captured this photo of Mesa Arch in Canyonlands Utah.  I woke up at about 3:30 am in order make my way 25 miles through empty barren rock landscape to the trailhead.  So far so good right?  Not a human in sight.  I then hiked a mile down a small trail to the arch, reaching it just as the very first hints of light were showing in the Eastern sky.  But as I approached the arch I was stunned to see no less than 30 people already lined up in front of the arch.  I guess I was not early enough.
The arch is such, that you must stand about 30 feet from the arch to photograph it with the valley floor below and so the camera mob was bunched all atop one another in order to stake the prime real estate. I eventually had to crawl between the legs of some photographers to sit in front of them and shoot from there. After a few photographs from that location I decided to try and shoot from a far side angle. It was the only way to get some space,, and as it turns out I liked the final result better (see above). It did however, require me to shoot in a very uncomfortable position lying on my belly across the edge of some rocks with my camera precariously perched.
Below you can see a shot from on high looking down at the crowd  of photographers still there, after the sunrise was over.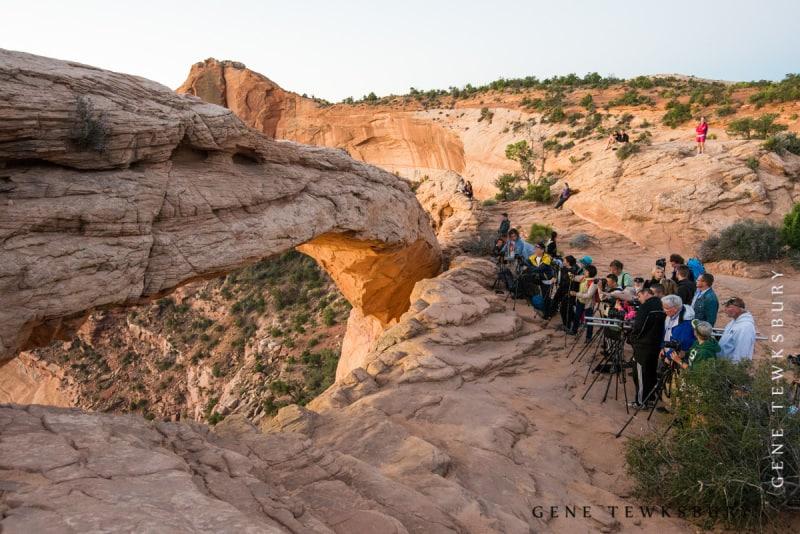 While the final result is lovely and can inspire dreams of nature, peace and serenity. The reality was a crowd of people, most of whom were unable to shut their yap long enough to enjoy the moment.
The moral of this story. Photography is not always fact, it is often like a fiction book, based on reality but tweaked to be more interesting.
NOTE: This location is popular on my Moab / Arches National Park / Canyonlands Photo Tours. However, if you plan your trip with me during the proper months this sort of crowd will not be an issue. During the "tourist season" we just avoid this location.
---
Photo Stats:
Three photos blended together (NIK HDR2 – base settings)

If you are not familiar with high dynamic range shooting, this is an example of when it quite necessary to use. The contrast in lighting between the backlite sunrise and the foreground shadows is too great for a single photograph to properly capture. As such you can take multiple exposures, each with a different exposure setting (overexposed, middle, underexposed). Each image captures the details within it's capable range. In post, the three images are blended together to complete a single image with proper details in all areas of the photo. This blending can be done by hand in photoshop with masking techniques or through several automated programs.

f/9, 100 iso
shutter: 1 sec, 1/4 sec, 3 sec
Photoshop, NIK suite (Silver Efex & Perfect Effects 9)
Nikon D600, Nikkor 16-24, Manfrotto Tripod
Just a note: you may think that the rich red under the arch is enhanced digitally,, no,, it really looks like that. The arch is high on a cliff allowing the sun to shine upward under the arch as it breaks the horizon.